If you ever grow bored with the innumerable historical and cultural and attractions of the D.C. metro area and you feel up for a fun and educational trip with an unusual twist, take a ride out Luray Caverns in Virginia.
Less than a two-hour drive west from the DMV, Luray Caverns was discovered in 1878 by tinsmith Andrew Campbell. This massive hole in the ground is the largest of its kind in the East. The caverns, aptly named, are indeed cavernous, with some of the rooms reaching 10 stories high.
To gain access to the caves, you must buy a ticket and descend the staircase (the wait between these two events gets long in the summer), at which point you find yourself in a dimly lit room with about 25 other people and your tour guide, who is chock full of fascinating facts and trivia about the caverns, and possibly some cheap jokes and bad puns, depending on who your guide is.
Visitors are not allowed to explore the caves on their own. The formations suffered damage over the years from the human touch, and all are warned at the beginning of the tour to keep their hands to themselves. (This does not work as well as it should. Many adults were still compelled to cop a feel along the way.)
The tour winds along a 1¼-mile brick path through room after room of beautiful formations, some reminiscent of U.S. pop culture, like the formation that looks like Snoopy's doghouse.
Some of the formations descending from the ceiling are so thin you can see light through them. Depending on how they form, they can take varying shapes — one is known as "drapes," and another looks like a striped blanket.
A highlight of the hour-long tour is a stop at Dream Lake, a small, shallow body of water so clear and still you would swear you were looking at stalagmites on the floor instead of a reflection of the stalactites above.
Near the end of the tour, visitors are treated to a demonstration of The Great Stalacpipe Organ. Lore abounds regarding the origin of this musical instrument, but one thing we know for sure is how it operates today: Keys are connected to mallets that, when pressed, strike different stalactites, producing a variety of musical notes. The result is an eerie-sounding trill reminiscent of a 19th-century circus or organ grinder.
If you're worried about bats, cockroaches, blind fish or other subterranean creatures, you won't see any here; years ago, all other entrances to the caverns were sealed off, partly to protect the cave (and the town's financial interests), so they have no way to get in, and no food sources.
Luray is an active cavern, meaning it is still growing, so water may drip on you at times during your tour. Don't worry, it won't be enough for a stalagmite to form on your head. In fact, the rate of growth is one cubic inch every 120 years. (We'd say this was a glacial pace, but with the profusion of galloping glaciers these days, the phrase no longer applies.)
Your ticket into the caves also covers admission into the Car and Carriage Caravan — a display of antique and classic cars — and the Luray Valley Museum, which is comprised of buildings and artifacts dating back to Civil War times.
For an extra fee, you can add on the Garden Maze, a half-mile's worth of twists and turns in between rows of arborvitae. Warning: This is not like the lame maze constructed of hay bales you took your kids to. If we didn't eventually use the hints posted along the way, we would still be in there. Employees also wander through, warmly offering help and guidance to anyone who needs it. Warning II: Almost universally, couples, families and groups of all kinds turned on one another eventually, fighting about which way was the right way and how they'd just been that way, so if you opt to try the maze, maybe plan something else to do afterward so that you don't have a really quiet ride home in the car.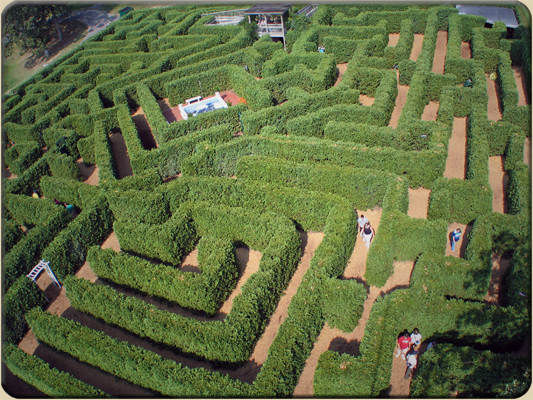 Other add-ons include Rope Adventure Park and Gem Sluice, where tykes can pan for gold and hunt for gems.
Restaurants, hotels and shops line the streets downtown, some budget, some fancy, so you have your pick. If you have time, consider driving partway on Skyline Drive for a wealth of panoramic vistas no matter the season.
Luray Caverns, 101 Cave Hill Rd., Luray, Virginia 22835; Open daily, Hours: 9 a.m. to 4 p.m. (5 p.m. on weekends) Nov. 1-March 31, 9 a.m. to 6 p.m. April 1-June 14, 9 a.m. to 7 p.m. June 15-Labor Day, 9 a.m. to 6 p.m. day after Labor Day-Oct. 31; Tickets are $27 for adults, $23 for seniors 62 and older, and $14 for children 6 to 12, group rates are available.