Ever wondered where you can find some awesome designer duds for less than the cost of your monthly rent? Well, you're in luck because we've narrowed down a few of some awesome consignment shops in the DC area where you can exercise your passion for fashion and get your Clueless on like Alicia Silverstone and Stacey Dash.
Buffalo Exchange
Phone: (202)299-9148
Location: 1318 14th St. NW, Washington, D.C. 20005 | between N Street and Rhode Island Ave.Store Hours: Monday–Saturday 11am–8pm / Sunday 12–6pm
Our Vote: Most Popular
This is probably one of the hippest spots you can find trendy duds in the DC area in the sense that pretty much everyone and their mother kows about it. Buffalo Exchange buys, sells and trades trendy vintage used clothing and accessories for both men and women and is located on the almighty 14th street strip.
They've been in business for about five years and pride themselves on having amassed a contemporary and fashion forward collection with funky vintage styles.
The only downside we can see is that they totally don't have their selection available online to browse through! So, unfortunately we can't give you the low-down on the designer duds, but word of mouth gives them total street cred.
---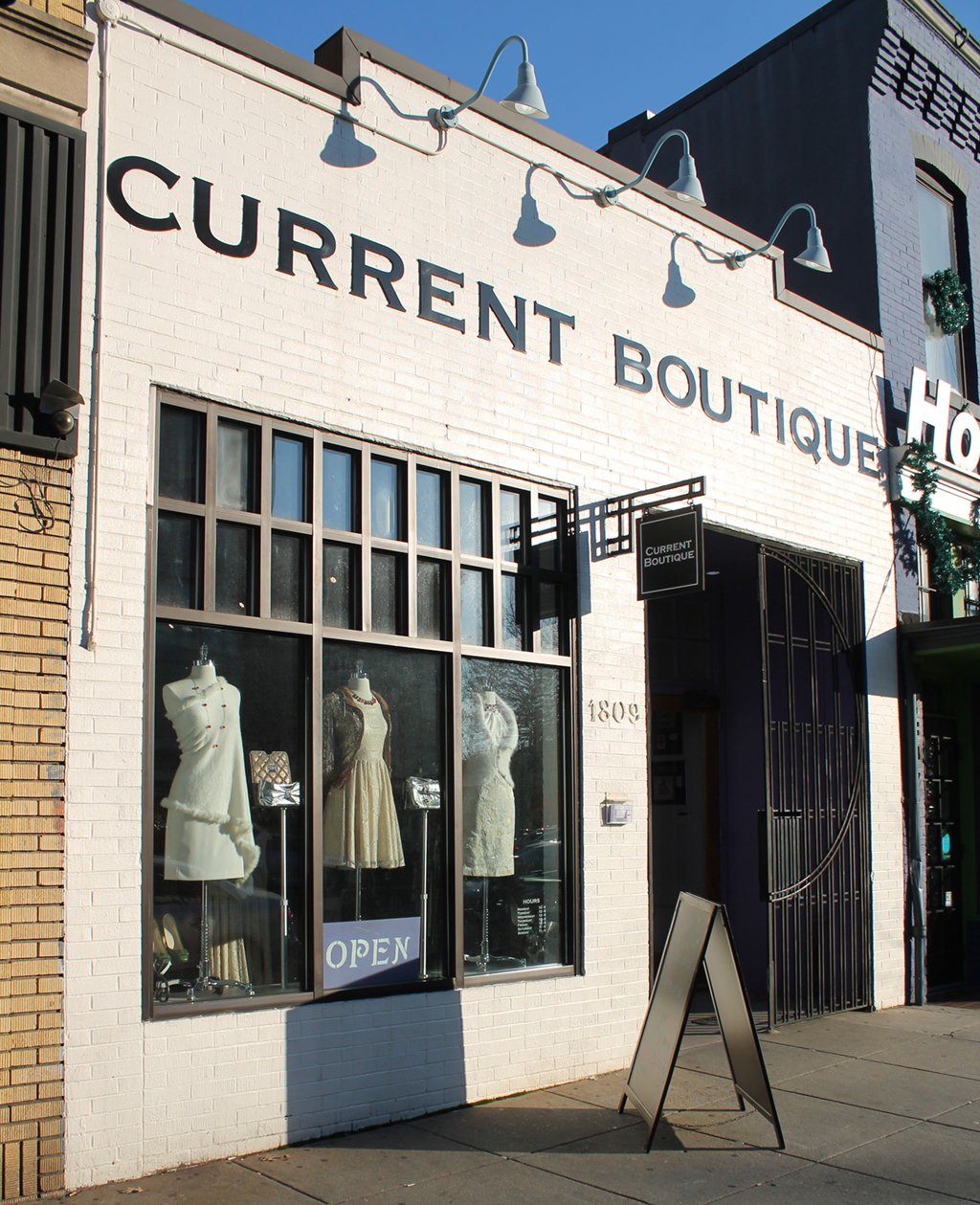 Current Boutique
Phone: (202) 588-7311
Location: 1809 14th St NW, Washington, DC 20009
Hours: Monday–Friday 12pm-8pm / Saturday 11am- 8pm / Sunday CLOSED
Our Vote: The Cool Kid
So these guys are pretty awesome and they definitely get the award for coolest web/branding. The entire establishment has a very commercial fashion retailer feel similar to a New York and Company or Express, except with better brands.
Okay, I guess we would classify it more along the lines of a Nordstrom Rack. Why? Because their designer inventory is absolutely insane. We have to admit we were pretty impressed with their clothing collection which ranged everywhere from Escada and BCBG to Diane Von Furstenburg (aka queen of the wrap dress), Prada and Nanette Lepore.
We thought we were in heaven until we checked out their shoe options which included heavy hitters like Brian Atwood, Dries Van Nooten, Alexander Wang and Via Spiga.
Then, as if it couldn't get anymore lovely, we hit a complete state of transcendental fashion nirvana. Their handbags? We're talking Chloe, Marc Jacobs, Balenciaga, Rebecca Minkoff and Prada. Yes, they definitely get the cool kid vote from us. Their selection is kind of to die for.
---
Frugalista
Phone: (202) 328-2135
Location: 3069 Mt Pleasant St NW, Washington, DC 20009
Hours: Monday-Saturday 10am-7pm / Sunday 10am-6pm
Our Vote: The Local Bestie
This place received four out of five stars on their Google reviews and we kind of fell in love with the owner's feedback. Yes, the owner is not some phantom being collecting a cool check, never to be seen. In fact, by all intents and purposes, she seems quite cool and down-to-earth based on her response to customer reviews and compliments.
They have a great women's collection, however they boast less on the high-end/haute-couture side however have a wonderful reputation for keeping their clothing items in awesome condition. One reviewer even stated that their phone died during a visit and the staff went as far as to charge their battery for them while they shopped.
Aweeee. We kind of heart them already – this is why we call them BAE. The downside? They don't have a website! Talk about a cardinal sin! They've got a price average of around $20 for their shoe inventory and plenty of designer duds as well.
---
Secondi Inc
Phone: (202) 667-1122.
Location: 1702 Connecticut Ave NW, Washington, DC 20009
Hours: Monday-Friday 11am-7pm / Saturday 11am-6pm
Our Vote: The Hautest
Uhm – our words? We pretty much have no words. We have to admit when we stumbled upon their webpage we were thinking more along the lines of your grandmother's favorite place to buy Talbot-esque apparel. Like, Hillary Clinton's favorite down-low thrift spot.
Boy were we mistaken. We took a look at their inventory and were pretty much bombarded by a tsunami of pure ecstasy. First, we have to start with their luxury authentication program – which is something totally fresh and much needed. They offer services to authenticate luxury items at a rate of $40.00/accessory, unless that accessory is Hermès, then it's like almost 4x as much and requires a 24-hr turnaround. But hey – it's Hermès.
The catch? They only offer authentication services for a select number of designer brands – pretty much all the main ones ranging from Prada to Chanel, Fendi, Gucci, Louis Vuitton, Céline, Dior and more. However, they're always updating their services and looking to bring authentication to additional designer brands to you ASAP.
But on to why their the hautest. Their inventory is SUPER luxe and they're mixing it up with the A-list heavy hitters of accessories such as multitudes of Hermès scarfs, Louis Vuitton briefcases and even Prada art books. Their jewelry selection? Dolce, David Yurman, Reed Krakoff, and Tiffany & Co.
Shoes were killer, as you can imagine. We're talking 3.1 Phillip Lim boots, Chanel bottines, Christian Louboutin, Dior, Jimmy Choo and Lanvin – OMG it's literally overwhelming and we feel like our heart is about to burst out of our chest.
Purses were pure perfection. They boast everything from Chanel to Céline, Dior, Gucci and Louis Vuitton for 50%+ off. It's sheer insanity — the hautest – absolute fuego, hands down.
So there you have it – our list of the top second-hand shops to get some trendy and/or designer duds. So go on with ya bad self and splurge a little. You deserve it ::wink face::