This Friday, August 18, Sugar Shack Donuts and Coffee opens in Shaw. This is the twelfth store opening, but there's a bit of a difference with it. It's got late opening hours, and you can get your doughnuts warmed. Could there be anything better?
Well, actually, there could. Opening weekend is packed full with prizes, specials and events. From 6 AM Friday, you could win one of the much wanted prizes. The first 50 customers in line will be the lucky recipients of a free doughnut a month for a year.
But don't worry if you totally missed it today, because every month you can walk in and claim your free doughnut. But if 6 AM is just a bit too early for you, then the weekend long raffle might be more appealing.
This weekend long—all weekend long,  they'll run a raffle, so you could win an 18 inch Sugar Shack doughnut.
Let me just repeat that for one moment.
ONE 18IN DOUGHY NOMZ OF CRISPY WARM DELICIOUSNESS AND HEAVENLY GOODNESS.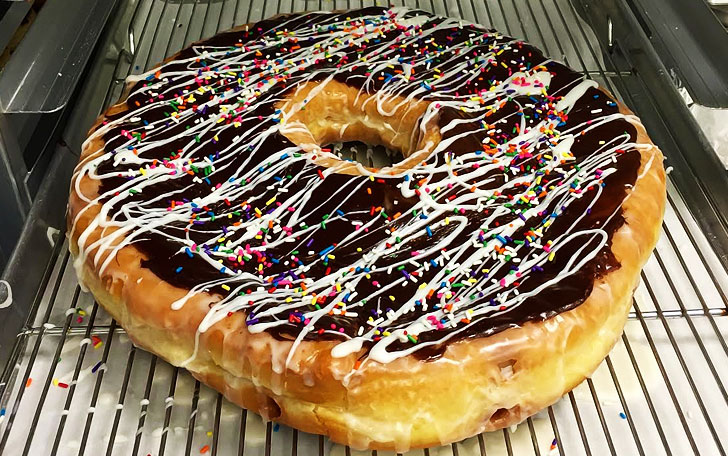 Did we mention there's plenty of other prizes too? Even if you can't make opening weekend, you'll still have opportunities to win prizes.
If you follow Sugar Shack's social media, keep an eye out for their daily challenges. They normally post them at around 5.30 AM, and you can win a free doughnut.
Each Sugar Shack Donuts store uses the same dough recipe, but they make their own fillings and glazes. There's between 25 and 30 different varieties available at any one time, but there's around 400 doughnut recipes.
They rotate the recipes, so while you'll find classic favorites like chocolate, vanilla and cinnamon, you'll also get the chance to try something new and exciting, like cucumber melon, pineapple serrano and fresh peach ginger.
Sugar Shack Donuts are made in small batches all day long, so you always get a nice fresh doughnut. They're hand rolled, and hand cut, and baked in store. The ingredients are fresh, and when it's possible, local. Your strawberry doughnut has actual strawberries, your apple doughnut has genuine apples, and it shows in the taste.
Sugar Shack stores are locally owned and operated, and each serves products based on their location. Shaw store owner, Rob Krupicka, will be partnering with local breweries, like Right Proper, to make beer based glazes.
They will also use local booze for their Donuts After Dark menu, which has lots of alcohol based recipes and flavors, like peach fuzzy navel, and blackberry bourbon. The alcohol is completely cooked off, so there's no need to bring ID. The Donuts After Dark menu will run Thursdays to Saturdays, and the shop is open to 2AM on these days.
If you need something to drink with your amazing doughnuts, especially if you happen to be the person lucky enough to win the 18-inch doughnut, the shop also has coffee. The baristas grind each shot of coffee, and manually steam the milk.
As well as sourcing coffee beans from roasters, Sugar Shack also has its own line of coffee. If you prefer your coffee cold, there's nitro cold brew, and for tea lovers, kombucha on tap. If coffee just isn't your drink, they also have bottled cold drinks, and the flavors vary by location. If you want a drink with a bit more kick, there will be some alcoholic drinks available in the evenings.
Shaw's Sugar Shack opens this weekend, but coming in September is Nocturne. Nocturne will be downstairs, and is described as an experimental tapas-style cocktail bar.
The menu will have 30 to 40 cocktails, made with all sorts of incredible equipment including a centrifuge, and will be designed so you can mix and match. Alongside the drinks menu, the bar will serve Sugar Shack doughnuts, and a gourmet snack menu. The Alexandria location has a hidden cocktail lounge, and the executive chef, Brandon McDermott has lent his talents to the Nocturne snack menu.
Although Nocturne is set to open at a later date, the opening weekend of the Shaw Sugar Shack is going to be quite the event. The prizes are exceptional, and even if you can't get there for 6 AM, the chance to win an 18 inch Sugar Shack doughnut runs all weekend long.