Yoko Ono is being honored by the Hirshhorn Museum with a collection of artwork produced throughout the summer. The newest additions include a Union Market mural and a weekend tribute concert.
Before her summer-long exhibit at the Hirshhorn comes to an end, the artist displayed a new mural at Union Market, titled "RELAX. YOUR HEART IS STRONGER THAN WHAT YOU THINK!"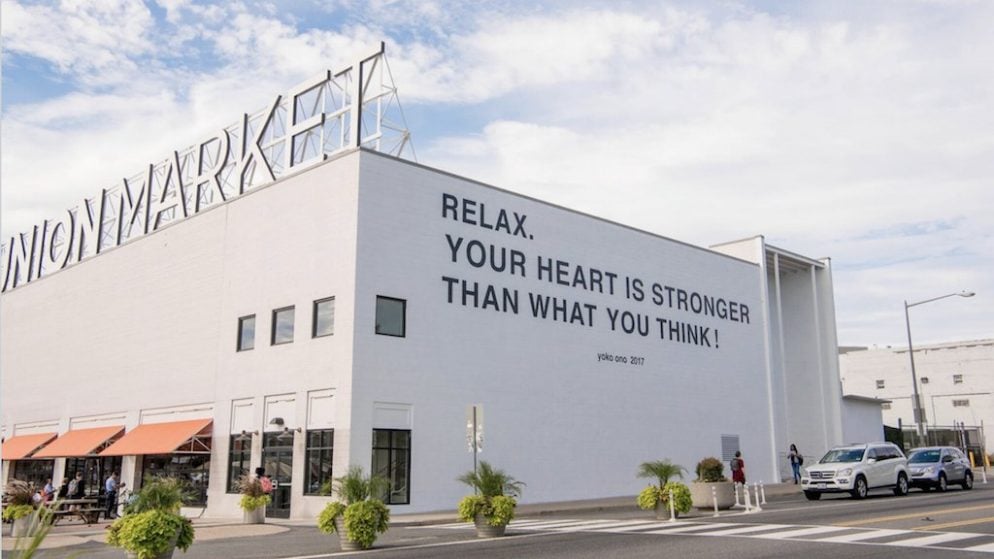 The Northeast market partnered with the Hirshhorn Museum and Sculpture Garden to complete the project and the awesome work is located on nearly 1,000 square feet of Union Market's exterior. It's scheduled to be on display for several months.
The Hirshhorn's description of the work states that Yoko hopes "It might compel us to step out of our daily lives and consider the power of the heart over restrictions of the mind."
She imagined the piece specifically for this location, with the goal of the mural being to get everyone who views it to get something unique out of the artist's words. Hirshhorn Curator of Media and Performance Art, Mark Beasley, is planning to lead educational discussions on Yoko Ono's work as a part of the new mural.
The mural is the first foray for a project titled "Hirshhorn in The City", an initiative linking modern art and those who create it to the broader community in the District. Hirshhorn director Melissa Chiu said in a release, "Our goal is to bring people and ideas together to shape 21st century culture… Union Market fully embraces this aspect of the city, making it an ideal home for Ono's newest work."
The artist will also be honored with a concert at the Hirshhorn Museum and Sculpture Garden on Sunday, September 19th, from 7-10 PM, with tickets at $25.00 a piece. It is going to be held outdoors on the museum plaza.
"There's a whole generation of musicians operating under the genre 'noise music' which Yoko was pushing the limits out of in the 60's," said Mark Beasley, Hirshhorn curator. "The kids in D.C. or 300 noise bands in Brooklyn all owe some kind of debt to Yoko." Yoko Ono truly inspired a generation of performers, artists, and more.
Artists Kim Gordon from Sonic Youth, Lizzi Bougatsos from Gang Gang Dance, and Moor Mother will be performing. All of these artists were influenced by Yoko Ono and have thought about her music while creating their own.
These musicians will be reciting a few of the scores from Yoko Ono's greatly musically influential 1960's book Grapefruit and rework some of her poetry. Grapefruit featured a number of instructions for creating art and music.
There will also be key films by Ono played, such as "Bottoms" and "Fly". These films, made in the 1960s, were uniquely artistic and ahead of their time.
"Bottoms" is a film of people Ono knew in her life walking away from the camera, so you see their backsides. "Fly" follows a fly crawling around Yoko Ono's body. It was actually aired live on American TV in the sixties.
The Yoko Ono tribute concert is the fourth and final entries in the Hirshhorn's summer series "Yoko Ono: Four Works for Washington and the World". This is a celebration of Yoko Ono's Wish Tree for Washington D.C.'s tenth year anniversary.
Throughout the summer, the Hirshhorn has presented a selection of the artist's most iconic works and performances. Aside from the concert and the mural, Yoko Ono was also honored with My Mommy is Beautiful, where visitors could pay tribute to their mothers, and Sky TV for Washington D.C., a 24-hour live feed of the sky providing a window to the world.
Yoko Ono's Wish Tree for Washington D.C. was planted in the Hirshhorn sculpture garden as a gift in 2007. Since 2007, summer visitors have tied almost 80,000 handwritten wishes to the tree's branches.
The Wish Tree for Washington D.C. is part of an ongoing art installation that has collected over a million wishes across the world. Those wishes are then sent to Iceland, to Ono's Imagine Peace Tower. Imagine Peace Tower is an outdoor artwork that memorializes Ono's late husband, John Lennon.
Ono has heavily influenced music, art, and film all throughout her life. Her influences have been felt deeply in D.C. Her goal has always to inspire, and that is what both the mural and concert intend to do.