So, it kind of seems like restaurants are popping up like mushrooms all over the District. From Whiskey lounges to gourmet burgers and Ethiopian feasts, District residents have access to boatloads of culturally diverse food options without even crossing the curb!
We know you're excited; so, here's our handpicked list of the top three Rockstar restaurant openings.
Three Incredible Restaurants for the Food Lover in You
Want to go the hottest new restaurant in town?
There are dozens of restaurants opening every day. But, what cracks the Foodie Favorite are restaurants with sumptuous exuberance for the palette and the soul.  With freebies and untried moonshine cocktails, our list of recent restaurant openings is epic!
1.     Makeda
What's Cookin'
Ethiopian Cuisine
Where
Virginia
Special
Taste of Makeda Platter with Kitfo —sliced lean beef in traditional feta cheese. Miser Wot (red lentils), Kik Alecha (yellow split peas) and Gomen Wot (chopped collards), Shiro or chickpeas and Atakilet Wot or cabbage with potato.
Hours
11:00 AM to 02:00 AM
Prepare your taste buds because this new restaurant is piping hot with lamb, chicken, seafood and everything exquisite you can think of! This 95-seater space is the hard work of investor Mr. Daniel Solomon and the popular chef from the heart of New York, Phillipos Mengistu.
Makeda's mission is to create a radiant bar scene. It has already crafted a jampacked menu of exotic wine, liquor and beers that will keep you coming to this Ethiopian extravaganza.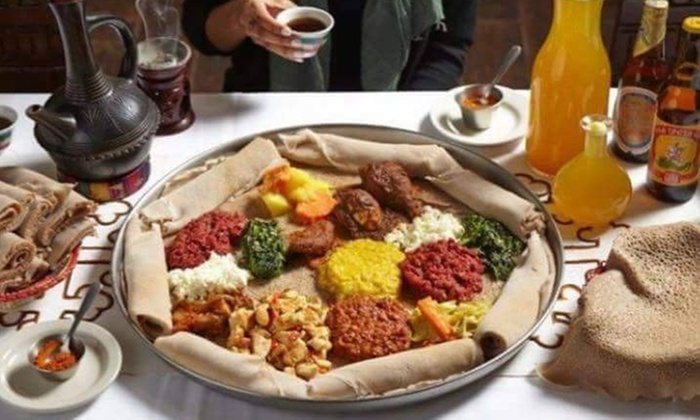 The food is authentic Ethiopian cuisine courtesy of Chef Senait Mimi Tedla, previously known for his time at The Israel Goldstein Youth Village, Jerusalem. 
Located against the backdrop of Landmark Mall, Makeda is already gaining popularity with the locals since its opening on October 2. The family friendly Ethiopian restaurant also hopes to increases the stakes with live music to fill the evenings. What's more, they even have a kid's section in the menu! Woot! Woot!
---
2.     Crimson Whiskey Bar
What's Cookin'
Breakfast, Lunch and Dessert
Where
Chinatown
Special
Beverages: Boozy Lemonade or Negroni
Snacks: Crab Hush Puppies or Meatloaf Meatballs and Potato Puree
Schedule
07:00 AM to 12:00 AM
With vintage-style communal tables and hunter's trophies adorning the walls, Crimson Whiskey Bar has definitely set an elegant ambiance to Chinatown. It's also a little bitty slice of fantasy, thanks to their dark liquor and moonshine varieties.
The Whiskey lounge offers full bar options and combines appetizing snacks including three extra-special burgers made exclusively for Crimson Whiskey Bar from Chef Lawrence DiJoseph.
Although, the snacks menu has expanded beyond his wildest dreams, Ian Hilton, one of the co-founders, claims it is the best for the lounge, as it will keep the customers plugged in.
The new moonshine hotspot in Chinatown opened on October 2nd and already has a trendy ambiance with Wi-Fi and TV. From chicken to seafood and vegan banquets, the Whiskey Lounge is also known for its all-day breakfast.
Crimson Whiskey Bar is a sibling restaurant led by Nicholas Hellberg, the beverage Marketer.  Moreover, the restaurant does not take reservations or offer delivery, so hurry before the seats run out!
---
3.     Bold Bite Market
Where
The Golden Triangle
What's Cookin'
Breakfast, Lunch and Dinner
Special
Dulce De Leche Doughnuts, Ailois and Gourmet Coffee
Schedule
07:30 AM to 08:00 PM
Combining the best of 202 Donuts and Tapabar, Bold Bite is a unique 80-seater store-plus-restaurant that opened a little over a week ago. Bold Bite Market offers the complete menu available at all the Bold Bite group of restaurants.
The Bethesda restaurant is popular for its gourmet sausages, burger and hot dogs and even offers take-out as well. Popular foodies savor the cheesy and specialty dips at this sassy little burger-donut heaven. Bold Bite Market also offers a wide variety of handmade milkshakes and if you're lucky, you might even get it for free!
Want a free doughnut? No, this is not click bait! The all-new hot eatery in Golden Triangle is giving free doughnuts with their gourmet coffee until the end of the month.
Oh and you bet your sweet little heart it doesn't just end there folks! Bold Bite also has a promotional offer of 20% off on Tuesdays if you buy a salad and free potato fries with lunch on Fridays. Hurry NOW!
What we recommend …
If you're tired of eating at popular restaurants in town, the eateries above will be a savior for your taste buds. Filled with authentic dishes all the way from Ethiopia to the new mix of gourmet donuts with hotdogs, the winning restaurants offer chilled out ambiance to excellent service.
So better grab your wallet—hide your kids, hide your wife—because they're serving everybody up in here!
….Just kidding—Actually, we're not…you should totally  bring them out too.