Friday, October 27th
Make your Friday Magical with the Scary Living Zoo and Wizardry!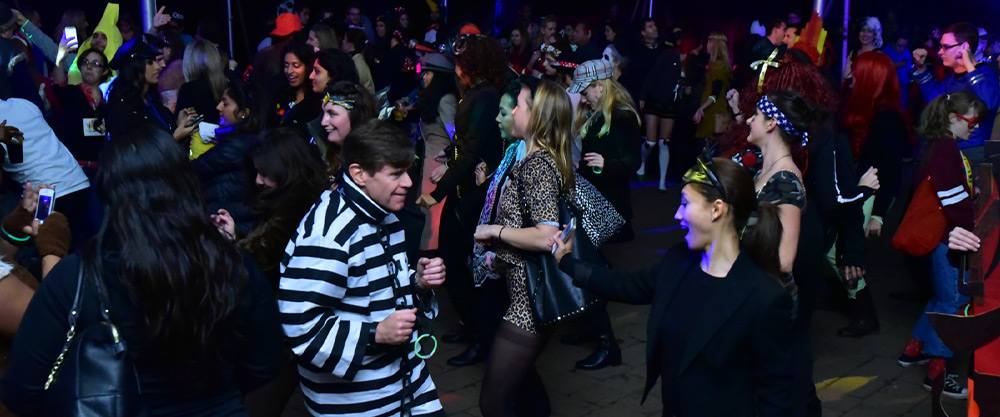 Night of the Living Zoo
Complementary to last week's Boo at the Zoo, Night of the Living Zoo is a fun Halloween event mixed with scary houses, animals and fun pranks. Added with the live entertainment, Night of the Living Zoo is a popular event with 500+ tickets already sold.
The most happening Halloween event is adults-only with live music and booming parties. The prime attraction of the DC's Living Zoo is the selection of daring and dangerous acts that pumps the adrenaline. Ride in Peace or RIP on the speedwell is yet another attraction not to miss when at the Zoo.
Don't forget to don a fiery costume as there is a Spooktacular costume contest at the end of the event!
·         What
Halloween Scary Zoo
·         Who
Friends of the National Zoo
·         Where
Smithsonian National Zoo
·         Time
06:30 PM to 10:00 PM
·         Ticket Fee
---

Harry Potter Halloween Bash
For all the die-hard Potterians out there, attend a Hogwarts-Style Halloween Party this weekend and make it a blast! Filled with total fun and frolic, the annual Harry Potter Halloween Bash is an adult event for 21+.
From Forbidden Forest to Hippogriffs and Nagini, Harry Potter Halloween Bash is promised to bring alive the scariest stories of the Wizarding World of J.K Rowling. If you're a wizard, witch, muggle, elf or a magical creature, you're cordially invited to the party.
Potter bash is an epic party with themed drinks to spellbinding lessons and Live Music. As the event also has an extravagant costume contest, don't forget your wand and broomstick!
·         What
Halloween Theme Party
·         Who
The Prospect
·         Where
1214 U St NW
·         Time
09:00 PM
·         Ticket Fee
Free
---
---
Saturday, October 28th
---
---
Fill your Saturday with a belly full of laughter and Ciders!
The Book of the Mormon
By the South Park creators Matt Stone and Trey Parker, The Book of Mormon is an award winning musical focusing on the hilarious stories of two Mormons preaching the Gospel in Africa. If you haven't seen it then you're totally missing out (and P.S. have you been living under a rock?)
The musical comedy is a nine-time Tony Awards winner and is renowned currently as the Star Play at Broadway too. With one intermission, The Book of Mormons stretches up to two hours.
Catch the best comedy musical DC is raving NOW!
·         What
Comedy Theatre
·         Who
Trey Parker and Matt Stone
·         Where
The John F. Kennedy Center for the Performing Arts
·         Time
01:30 PM and 07:30 PM
·         Ticket Fee
$59 to $229
---

Rock the Core
With up to 100+ local and international breweries participating in Rock the Core 2017, the annual cider festival is rocking.
From social games to food trucks and exotic farm produce from the local market, Rock the Core guarantees unlimited fun. Rock the Core is a 2-day event for Cider lovers to explore the wide variety of beers to ciders in and around DC.
With a general ticket, one can have unlimited full pours of Shocktop, Bold Rock and Budlight. Buy the Cider Love pack and go home with up to 12 exquisite ciders!
Children are not allowed at this event.
·         What
Cider Festival
·         Who
Drink The District
·         Where
The Mills, Rhode Island
·         Time
07:00- 10:00 PM
·         Ticket Fee
General: $54.01
Cider Lover: $80.51
---
---
Sunday, October 29th
End your weekend with Live Music and last of the Oktoberfest.
---
---
Edwin McCain
Known as the greatest American romantic of all times, Edwin McCain is not a new face. McCain has been playing music and wooing fans across the world for more than 20 years now. According to audiophiles, the party-like vibe of his concerts is the main reason fans keep coming back.
Having upwards of 100 shows every year, Edwin McCain is coming to DC with a fresh voice and theme this weekend.
·         What
Music Concert
·         Who
Edwin McCain
·         Where
Rams Head on Stage
·         Time
08:00 PM- 11:00 PM
·         Ticket Fee
$33
---

Great Falls Oktoberfest
The annual fundraising event in DC is expected to have the most fun games to brews and food trucks this weekend. Great Falls Oktoberfest offers the best of Oktoberfest from German Bier to exotic Wines and foreign beverages.
A traditional event held in DC for 6 years, Great Falls Oktoberfest is sponsored by Sotheby's to Ernst & Young. You can have unlimited German Beer as well as fun, thanks to the unique 30-piece band besides the Bavarian Dance Group set to perform at the fest. All tickets will offer $70 donation to the Rotary Club Charity.
·         What
Food, Drinks, Beer, Games and Live Music;
·         Who
Rotary Club of Great Falls
·         Where
River Bend Golf and Country Club
·         Time
07:00 PM – 12:00 AM
·         Ticket Fee
$110
Before you go …
Don't bore yourself out sitting at home this weekend. Whisk away this weekend to the best romantic concert, German Beer fest or Comedy Theatre from the Kings of Comedy Trey Parker and Matt Stone. As the tickets to the events are running out fast, we urge you to click on the more information link and buy your tickets ASAP!