Uff! Can we all get one collective sigh that the work week is over (at least for some of us) and we can finally get a little bit of R&R?! If you're looking to spice up your holiday weekend then you're in for a treat because this weekend is packed full of some awesome social festivities to get you back in your groove. So take a look at our weekend hitlist and let us know your thoughts in the comments below!

---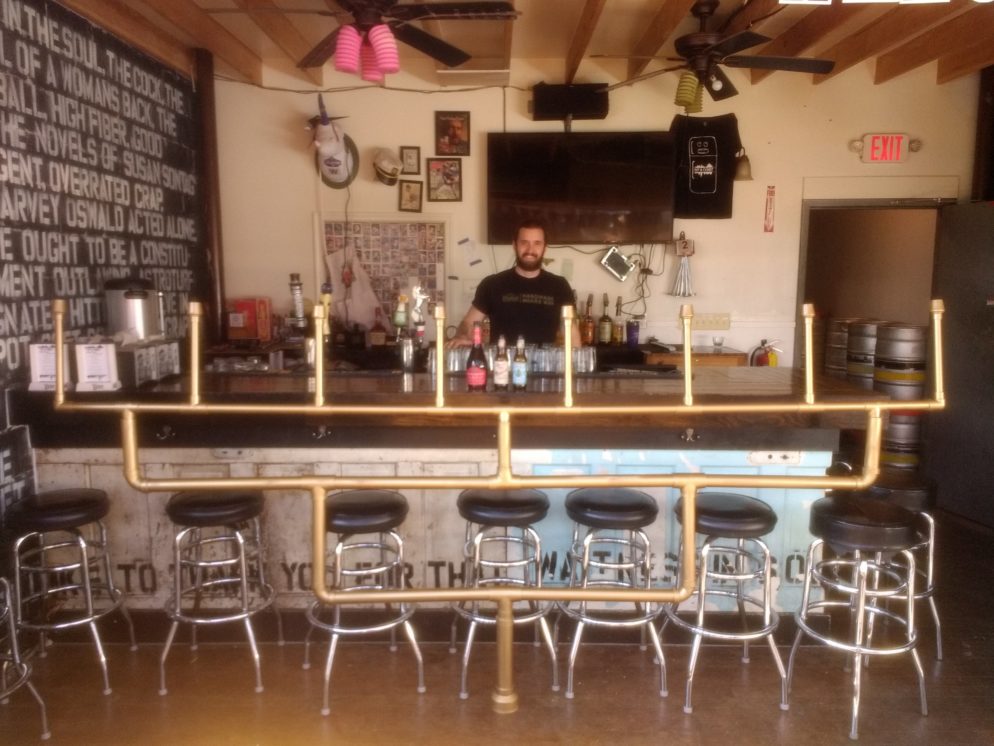 Chai-vy and Cohen-y
Where: Ivy and Coney
When: This weekend
Price: Entrance free, menu prices vary.
Ivy and Coney made their way on the DC scene courtesy of Kangaroo Boxing Club owners Chris Powers and Joshua Saltzman. The pair hail from Detroit (Powers) and Chicago (Saltzman) and opened up the Shaw neighborhood pub  as a local hangout spot because they firmly believe that "…sometimes you just want a cold beer, a shot, and a hot dog. " Nice.

Their Hanukkah inspired bar has made an appearance for the holidays and offers customers a place to "nosh on latkes and sip manischewitz". Other items on the list include matzoh ball soup, slivovitz, schnapps and kosher wines.

Oh, and did we mention they're hosting a dreidl spinning competition which includes giveaways and you can totally take shots out of a giant menorah?
---
Georgetown Glow
Where: Various locations throughout Georgetown
When: This weekend
Price: Free
Georgetown Glow is one of those awesome events that happen during the holidays that you totally can't miss. This free outdoor light exhibition shows off installations from artists all around the world and you can see the works from 5PM-10PM starting this weekend. These displays are located in various areas throughout the neighborhood, with a convenient map located on the project's website. You can also check out additional info about the artists and the details behind the projects on their artist page.
---

Cirque Dreams Holidaze

Where: The Theater at MGM National Harbour
When: This weekend
Price: Tickets start at $26.00

Cirque Dreams Holidaze is like Christmas at Radio City Music Hall — you have to see it at least once. This killer spectacle marks their 10th Anniversary Tour and is going to be aired as a PBS television special throughout the country.  This family-fun event received an awesome reception from The New York Daily News as a "delicious confection of charm, sparkle and talent by the sleighload" and "so full of energy it could end our dependence on oil!".  Haha — New York Daily News, you — always so #extra, you.
---
Drink the District Wine Festival
Where: 3400 Georgia Avenue NW
When: This weekend
Price: Tickets vary and range from $30.00 – $99.00
The Drink the District Wine Festival at the Park View is back in action with a special holiday touch and a "Mistletoe and Merlot" theme. The festival offers unlimited samples of over 100 wines (oh, and you bet there's cheese too). They offer three sessions throughout each day on Saturday with Session 1 being held from 12PM-3PM, Session 2 being held from 4PM-7PM, and Session 3 starting at 8PM and wrapping up at 11PM. All events are ticketed and vary based on packages purchased. There's live performances and special cheese and charcuterie packages (how can you say no…). The "Wine Lovers" package includes all the basics of the General Admissions package, but purchasers get to take home four — count em' FOUR — bottles of wine.
---
Russian Winter Festival
Where: Hillwood Estate Museum and Gardens
When: This weekend
Price: $18.00 for Adults; FREE for Children
So, if you know anything about the Russian Winter Festival in Moscow then you know that Russians — they do it up pretty big for Christmas. This year at the Hillwood Estates' Russian Winter Festival you can bring the whole family along for some good ol' wholesome fun (we can't be ratchet all the time, now can we…well, some of us can…).  This special little meet and greet includes Grandfather Frost (aka the Russian version of Santa Clause) and the Snow Maiden (his granddaughter). Kids and adults also get the opportunity to make and wear their own traditional Russian headwear and take part in various tours of the premises and live performances.
---
Repeal Day Ball
Where: Andrew C. Mellon Auditorium
When: This weekend
Price: GA $90.00; VIP $140.00
The DC Craft Bartenders Guild and their founding members are holding what could arguably be the best event #EVER  at the Andrew C. Mellon Auditorium this Saturday evening. The Annual Repeal Day Ball celebrates the 84th anniversary of Prohibition repeal and is full of vintage tunes, ambiance and boatloads of spirits to enjoy. The black tie affair also includes some of the best mixologists in the business including bartenders from Houston's Julep, NYC's BlackTail, New Orlean's Arnaud's French 75 and more. VIP packages include access to the ever-s0-exclusive champagne room and after party and a portion of the proceeds are dedicated to the Anacostia Watershed Society, so you can feel good while getting your drank on.
---

CatVideoFest
Where: AFI Silver Theater
When: This weekend at 5PM
Price: $13.00

There's no denying the fact that our culture has some pretty strange obsessions, one including an insatiable fascination with cat videos of all kinds. Why are they so finicky? Why do they think they're humans? Why are they all so terrified of cucumbers? All of these questions and more won't be answered during this awesome event sponsored by the nonprofit group Alley Cat Allies. What you can get however, is a 70-minute event which features an expertly curated reel of some of this year's most popular and all-time favorite cat videos as well as a few undiscovered newbies. Not gonna lie — I'm more likely to attend this than any other event on the list…