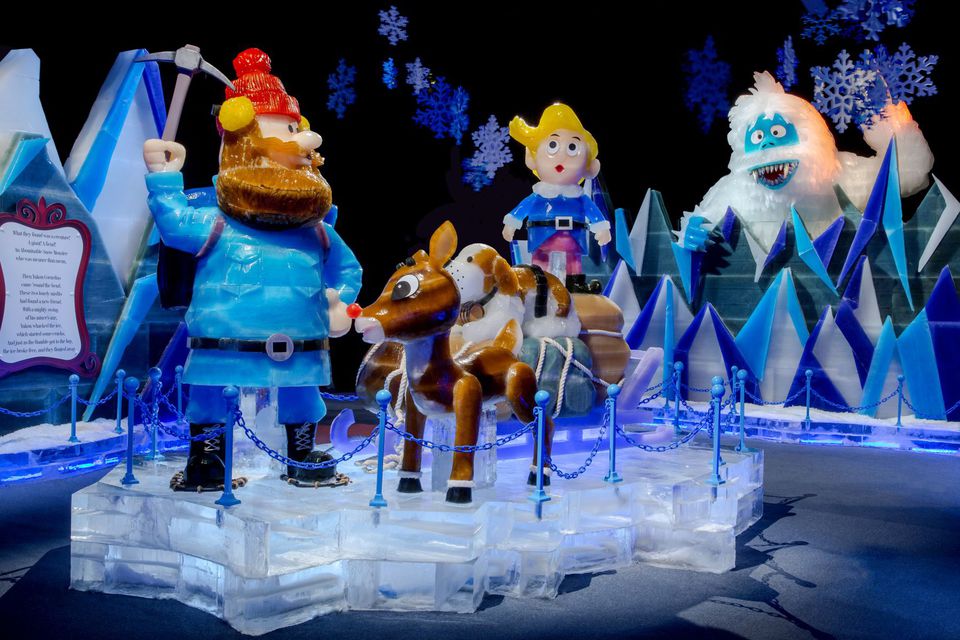 Okay so usually we're bringing you the occasional and periodically scheduled weekend hit list for your reading pleasure, but we've been feeling a bit festive lately. As a result we're bringing you a workweek hitlist of awesome events In the district you totally need to check out before your holiday weekend family-fueled commitments commence. Enjoy!
1. ICE! 2017 Christmas at the Gaylord National Resort
Where: Gaylord National Resort
When: All week long
This family fun event features a winter wonderland of 5000 blocks of ice weighing a total of 2 million pounds. These awesome little gems are hand-sculpted by 40 International artisans hailing from Harbin, China (a city in the northeastern province). This little gem of a town is world renowned for its annual Harbin International Show and Ice Festival.
…and the Gaylord National Resort is bringing it all to you first-hand,  front and center. Tickets start at $28 for kids & adults  ages 12 and older and are $20 for children Ages 3 through 11. The hotel is also offering Discounted rates for groups of 20 or more and special hotel packages.
---
Who: Mer Events
Where: Mythology at 816 H Street NE
When: Tuesday December 19 from 6:00 PM – 9:00 PM
So up until this very moment I was not personally familiar with Mer events but  I have to say they're definitely doing it up this week because they totally caught our attention and as a result 2 of their events are listed on this list. Back in September Mythology partied with Will Ferrell  and there Dark Side Bar is debuting this week in honor of the opening of Star Wars: The Last Jedi hitting  theaters this weekend.  
As of now there are a couple free tickets left that you can grab up on Eventbrite so you can get yourself a taste of their Galaxy inspired menu which includes tentacles on a stick (soy barbecue glazed octopus skewers) and Bantha Fodder (vegan sushi egg roles), among other tasty, wacky gems.
---
3. Meet the Redskins Cheerleaders
Where: Ivy City Smokehouse
When: Wednesday, December 20, 2017 from 5:30 PM to 7:30 PM
Who doesn't love a Redskins cheerleader. Well if you're one of the many die-hard Redskins fans in the area then  you'll be pretty stoked to know that you can meet them up close and personal at Ivy City Smokehouse this week. Drink specials include Jameson, Della, Patron, Don Julio and there are numerous food specials as well. So get your stalker game on point and hit up Ivy City Smokehouse for a pic with your favorite gals this week!
---
4. City Club of Washington Young Execs Holiday Soiree & Ugly Sweater Party
Who: City Club of Washington Young Execs
Where: City Club of Washington, DC at 555 13th Street NW (Lower Level)
When: Wednesday December 20 from 5:30PM – 8:30PM
City Club of Washington Young Executives is  known for hosting some pretty awesome social mixers and this is no exception. This event comes in partnership with the DMV Social and Movers and Shakers in the Community, Inc.  and gives young Professionals in the opportunity to mix, mingle and network with " some of DC's most influential and Powerful decision-makers, change makers and youngest executives under 40".
Attire is business casual despite the fact that genes are totally accepted  and ugly sweaters are encouraged. in fact they are so encouraged that a $100 dining certificate 4 Presidential Dining Hall  will be awarded to one lucky individual with the most hideous of  holiday sweaters.
---
5. Mixology 101
Who: OneRoute Mixology
Where: 407 H Street NE, Unit B
When: Thursday December 21 from 7:00 PM – 8:30 PM
So maybe you've always wanted to be a bartender but you kind of just never really sort of went through with it. Now is the chance for you to get your drink game on point because OneRoute Mixology  is hosting an awesome Mixology 101 class catered specifically for those with no experience whatsoever.  
Not only do you get to nosh  on complimentary snacks and learn how to make your favorite  Classic craft cocktails but you also get to meet and Mingle for the last 30 minutes of the event. Even more awesome —  the class gives you the chance to design your own cocktail and the winners get to guest bartend at DC local bar and be everybody's best for a night. #winning
---
Who: Via Umbria
Where: 1525 Wisconson Avenue NW
When: Thursday December 21 from 7:00PM – 9:00PM
So Via Umbria is  hosting a feast of Seven Fishes because it's Italian and classy like that.  The Feast of Seven Fishes is a traditional Christmas Eve custom that is practiced in southern Italy. Guests attending can expect a mouthful of ecstasy as Chef Liam hits it home with some amazing dishes. This is a special Chef's Table event that features a fixed price menu you won't forget.
---
7. Holiday Reception At The Embassy of France With The Consul
Who: Mer Events
Where: Embassy of France at 4101 Reservoir Road Northwest
When: Friday December 22 from 6:00 PM – 9:00 PM
Get your classiness on and hit up the French Embassy this week with Mer Events  for their holiday reception party. FYI ugly sweaters are totally encouraged but absolutely not mandatory. This meet and greet / social mixer will be attended by Darius French socialites, business professionals and diplomats including Michel Charbonnier, French Consul. Zut alors!
Enjoy buffet campagnard (french finger food)  prepared by the embassy chef and be prepared for an open bar featuring various French wines and traditional drinks. Tickets  start at $45 and go up to $75 depending on which package you purchase and the event is of course 21 + and stand up reception.