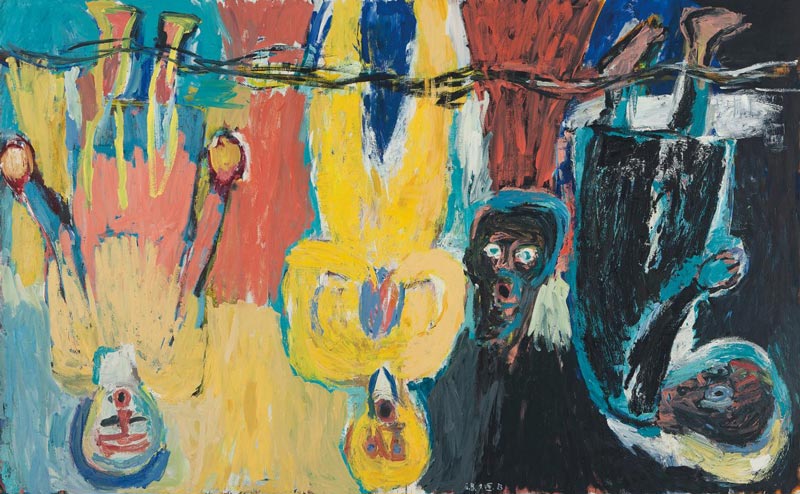 TIn honor of Georg Baselitz's 80th birthday, the Hirshhorn will feature this milestone exhibition of one of Germany's seminal artists, starting Thursday and running through Sept. 16. Six Decades is the first major U.S. retrospective of Baselitz's work in more than 20 years. You'll be able to view more than 100 of his inventive figurative paintings and sculptures across the Hirshhorn's second floor galleries, including famous pieces such as The Naked Man (1962) and Baselitz's upside-down paintings, which gained him international notoriety.
Exhibition runs from 10AM to 5:30PM and is free to the public.
---
This Hirshhorn exhibition takes it's name after a line from a classic song by The Smiths called "Does the Body". This collaborative event features the works of five artists and is meant to "examine the relationship between the body and identity through different forms of art, including music, comedy, spoken word and dance."
The exhibition beings this Thursday and runs for a little over a month into August 12th. Exhibition hours are from 10AM to 5:30PM and the event is free to the public.
---
Trevor Paglen is an artist that creates gorgeous landscapes like no other and his new exhibition at the Smithsonian American Art Museum is full of all kinds of interesting pieces from the artist including photographs, sculptures and artificial intelligence works.
This mid-career retrospective is sure to be a hit, especially for those who love socially conscious pieces which both analyze and contemplate contemporary societal concerns. The artist tackles the concept of privacy by "revealing a world where technology returns our gaze and the natural world is altered to hide the infrastructure of surveillance."
Good stuff.
---
This awesome event is one for the books, especially if you haven't been down to check out the amazingness that is ARTECHHOUSE courtesy of Sandro Keresa, aka the brainchild of the area's awesome Arts Soiree events.
In this special exhibition he's pairing up with Nonotak for some killer, albeit trippy light installation pieces that are sure to be a shock to the senses and an interesting experience to say the least.
---
If you're one of the many individuals out there who are as insanely obsessive about Monet as I am, then you're going to love this event being hosted courtesy of The Avalon Theatre.
This immersive experience pulls intricate details on the artist's life based on a whopping three-thousand letters which expose the artist's heart and soul and battle with depression and loneliness.
It additionally features over one hundred of the artist's works and is shot on location at the very places where he painted.
---
This celebratory experience is set to commemorate what has been a century of Mateship between both the United States and Australia. The July 4th date even marks the very anniversary of the "first time our troops fought side by side in an offensive action at the batle of Hamel on France's Western Front".
Yikes. Talk about BFFLs.
Tickets are $12 for the general public and $10 for students and individuals aged 62+ and
reservations
are recommended.
---
This awesome event opens the doors of the museum for free to the general public, so you get a chance to see all of the amazingness behind those.
Exhibitions include "Heavy Metal — Women to Watch 2018" which showcases contemporary female artists who work with metal. Also included is "Hung Liu In Print", which features "reimagined antique depictions of laborers, refugees, and prostitutes" which have been adapted from historical Chinese photographs.
"Fierce Women" is also available as a free drop-in tour at 1PM which celebrates the groundbreaking, trailblazing women artists, activists and innovators we all appreciate, know and love.
---
This awesome event is being held at the Phillips Collection Thursday, July 12th from 6:30PM to 7:30PM and is sure to be some good old fashioned fun.
Instructor/artist Racquel Keller will be in attendance leading the drawing workshop session whose name was inspired by "
Marking the Infinite
", which showcases contemporary women artists from Aboriginal Australia.
Tickets
cost $25 for the general public and $15 for members and includes a pass for admission into the special exhibition.