Check out the hottest events in the District this Independence Day!
---
2018 Smithsonian Folklife Festival
The Mall
11AM – 8PM
This awesome celebration is happening all summer long and Independence Day is no different. The theme this year is steeped in Armenian and Catalonian culture and filled with all kinds of amazing food, craft, music and dancing.

For those looking to participate on another level, you'll be excited to know that there are also plenty of internship and volunteer opportunities on the Smithsonian's website.
So if you haven't headed over to the Smithsonian Folklife Festival yet, then you're missing out — especially because it's totally free.

---
July 4th at the National Archives
National Archives Building
9AM – 11:45AM
This year's Independence Day celebration is brought to you by
US National Archives
and
National Archives Foundation
. With this special event attendees get to shout their list of grievances against King George III and cheer 'Huzzah!' in a traditional-style Independence Day celebration.
This family-friendly event is full of all kinds of activities and includes extended museum hours, special events, performances and much more.
Tickets
available for sale and individuals looking for more information can check out the
National Archives website
.
---
4th of July Fireworks & Picnic from Across the Potomac River
The Netherlands Carillon
5PM – 8PM
The annual 4th of July Fireworks hosted by Washington DC History & Culture is definitely one of the headlining events in the District featuring one of the most famous fireworks display in the nation. Lucky for you, you can get front row seats, live, in-person #shwinning!
Or maybe you're not one for the insanity and pandemonium. If that's the case, then feel free to watch the awesome event from the comfort of your quite, air-conditioned home in comfort because it's always televised.
But I should probably mention that word on the street is that this particular location is prime turf and offers an A+ view minus the crowds, parking and traffic.  However, you're still definitely going to want to head on over early if you want a hot seat.
---
A Capitol Fourth 2018
West Lawn of the United States Capitol
8PM – 9:30PM
For those of you looking to ring in Independence Day properly, you'll be excited to check out the headliners on schedule during A Capitol Fourth being held on the West Lawn. This awesome event is airing LIVE on PBS, streaming on Facebook and being hosted by none other than Uncle Jessie, himself!
As if that isn't enough to make you faint, everyone from The Beach Boys to Jimmy Buffett, The Temptations and #yasskween Andy Grammer will be there!
---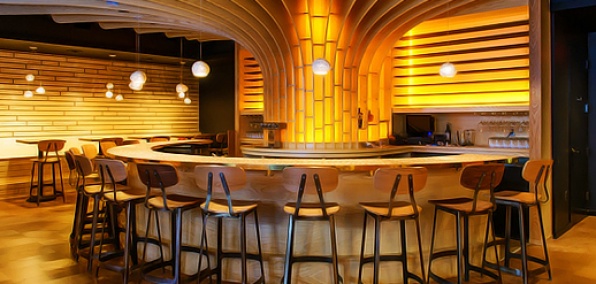 July 4 Rooftop Celebration
Flight
7PM to 10PM
For those of you looking for more relaxed, low-key events in the District for Independence Day, you'll be excited to hear about the handful of hotels and rooftop bars that are also hosting awesome 4th events. One such is DC's Flight, which offers an awesome evening full of fine dining and wine on their gorgeous rooftop.

Seating is limited, but tickets include a "seated buffet dinner, open bar, and views of the fireworks".
So what's on the menu?
Dinner Menu
Fried Chicken (hot sauce, honey, pickles)
Porchetta (fennel, herbs, radish)
Panzanella (tomato, bread, cucumber)
Caprese Sandwich (mozzarella, tomato, basil)
Cole Slaw (cabbage, shallot, crème fraîche)
Potato Salad (potato, olive, mustard)
Fruit Salad (seasonal mixed fruit)
Cookies (chocolate chip, oatmeal raisin, peanut butter)
*Menu is subject to change depending on availability of seasonal ingredients.
Tickets are $125/person but sold in limited quantity so get em' while they're hot.
---
Wednesday at The Wharf
The Wharf DC
6PM – 8PM
For those out there who are absolutely in love with everything going on at the Wharf, you'll be excited to know that Independence Day will be full of all kinds of fun and activities thanks to their summer program which hosts all kinds of fun weekday events all summer long.
I'm talking live music, food, wine and tons of fun in the sun for you, your friends and family. Did we mention it's totally pet-friendly and kid-friendly too?
Parents….we got you. ::wink wink::
---
The Astor World Cup Lounge
The St. Regis
9AM – 5:30PM
Another awesome, yet relatively low-key event going down in the District for Independence Day is going on at the St. Regis to celebrate the World Cup. For this special day they're officially transforming their beautiful lounge into the Astor World Cup Lounge and offering attendees a killer place to watch the World Cup tournament.

Even better? The event starts at 9AM, so guests can head on over for breakfast, lunch and beer specials as well as a special menu of cuisine from various countries participating in the event.
Tickets are limited and available on the St. Regis website.
---
5th Annual Red, White & Fuego
Mission
1PM – 4PM
Head on over to Mission in Dupont Circle if you're looking for a killer day party in the District this Independence Day. They're blasting off their 5th annual "Red, White & Fuego" event featuring an open bar, bottomless chips and guac, a DJ and a large patio to get your summer groovin' going.
Did we mention VIP ticket holders getting an extra hour of open bar? Just make sure you get em' while they're hot because they definitely sold out last year. Flag bikinis, sombreros and jorts are "encouraged" and for those looking for the hookup, word is pre and post parties are going down at the Hawthorne.
For additional info you can hit up info@missiondupont.com
Tickets available on Eventbrite.
$5 Discount Code: dayparty
---
Brats, Beer, & Freedom 4th of July Party
Dacha Beer Garden
12PM to 4PM
Head on over to Dacha Beer Garden and thank DC Brau Brewing Company for some awesome brats, beer, and freedom y'all!
This lively event is ringing in the 4th of July with tons of great food, good drinks and fun games, prizes and festivities. Did we mention there's going to be swag and a giant Jenga? I wonder if those blocks hurt as much as the real ones do when they tumble down on you…
---
4th of July Summer Soirée
Penthouse Rooftop at La Vie
5PM – 12AM
So pretty much any Washingtonian remotely active in District nightlife knows that JBC Events definitely doesn't disappoint and this Independence Day is no different. They'll be ringing in the holiday at one of the hottest rooftop venues in the city (just ask the Washingtonian).

La Vie is brought to you by the Social Restaurant Group, aka the same people responsible for Provision No. 14 and Pamplona and they're hosting an awesome BBQ soiree filled to the brim with mezcal mule slush cocktail, dancing, catered BBQ and three of the city's hottest DJs.
Did we mention they have a killer view?

Tickets are $20 online through Eventbrite and $30 at the door.
Dress code calls for no sneaks or tank tops.
Drink special (Courtesy of Mezcal El Silencio):
$7 – El Silencio Mezcal Mule Slush Cocktails (5-7pm)
Mezcal El Silencio free teach and tasting (7-10pm)
Music by:
Danny House
Kids Want Techno
Alex Noize
Table specials:
Please contact info@jbcevents.com