If you're visiting our nation's Capital, chances are you've scheduled to visit the prominent places, like the White House and Washington Monument. However, there are events that happen on the weekends that will make your experience in this historical city even more enjoyable. We've put together some of the must-see events for this weekend, August 11th through the 13th. These events will immerse you in the arts and music cultures of the entire world; you won't want to miss these.
---
Toast with the Queens
Have you ever wondered what it would be like to sip with royalty? No, not the Queen of England; the local queens of the Mrs. America world. Every year the Mrs. America contestants from DC, Pennsylvania, and Delaware are gathered and honor in a majestic celebration. This year the Queens are Julie Cangialosi from DC, Valerie Ross from PA, and Ivana Hamilton from DE.
What makes this event so great is that each year a portion of the ticket sales is given to a non-profit organization. This year the recipient will be Victoria's Voice. Held at the Morrison-Clark Historic Inn and Restaurant on August 12th from 2 to 4 pm.
---
Town Hall Lobster Bake
This one goes out to all of our foodies out there in the District.
Yep—this one's for you…
So, if you weren't aware, Town Hall's Summer Cookout Series has been in full effect for the past four months. The season started out with an Opening Day Cookout in April and rang in the middle of May with a Crawfish Boil.
As if it couldn't get an better, there was a June Pig Roast and a Crab Feast in July. So if you are one of the unfortunate poor and lowly souls who have missed this insanity—you have one last shot at redemption:
All hail the mighty Lobster Bake.
Okay, well, this is actually the second to last event that they're hosting, but the point is how can you miss the lobster bake. This is like the holy grail of food events. Tickets are $50 per person and include one lobster and all of the side dish nomz your little tummies can muster.
The event starts at 5PM this Saturday and lasts until 9:30PM at night.
---
Petting Zoo at Mount Vernon Triangle
So, we couldn't forget to show love for all the awesome moms and pops out there who still love to have a good time even with the kiddies in tow. As a result, we decided it might be worth mentioning that the Mount Vernon Petting Zoo is definitely worth hitting up.
Taking place in Milian Park on Massachusetts Avenue on Saturday from 10-noon, this petting zoo will give you and your children the opportunity to get up close and personal with several adorable animals. What's even better is that this event is completely FREE. #bonus
The animals included in this mini zoo will be chicks, chickens, ducks, sheep, goats, and maybe a llama, donkey, pig, or zebu; animals your kids may rarely get the chance to see and touch. The animal caretakers will be on hand to answer any questions and make sure the animals and kids alike have an amazing experience.
…and in the event you need further information on kid-friendly events in the District—check out the 2017 KFDC Guide for more awesome events such as festivals, concerts and more.
---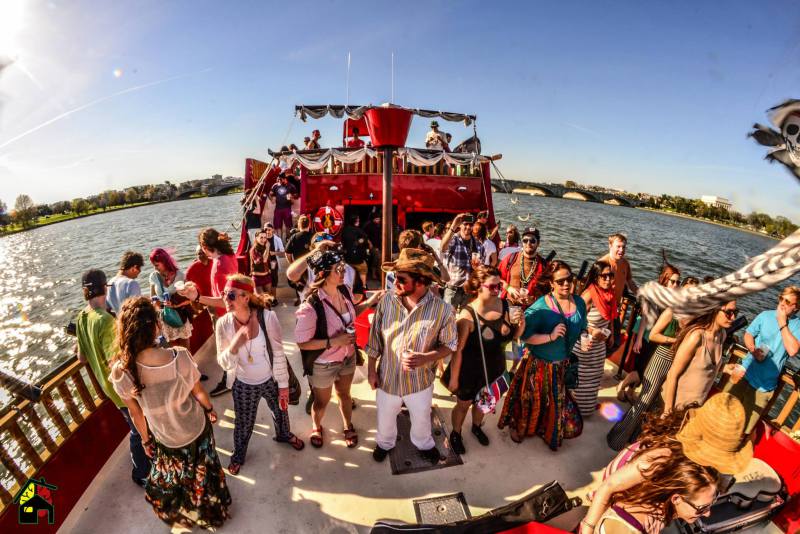 International Meetup Cruise and Salsa
If a more adult-oriented event is what you are after, the International Meetup Cruise and Salsa might just be the one for you. No, it's not a cruise as in you are out on a boat for a week. Instead, this cruise in on a smaller boat, giving it a more intimate and personal feel and will last for two hours.
Open to singles and couples alike, this event will make you let your guard down and open up to the exciting world of salsa dancing.
While on board the Boomerang Pirate Ship you will see a belly dancing performance by Asala, be trained in the art of Salsa Dancing by a DC maestro, and be entertained by the latest international music hits, all while sipping your favorite drinks and having extraordinary views of the city.
However, note that you must buy your tickets in advance; the boat sets sail at 3:30 at the Georgetown Waterfront. Be sure to buy your tickets now!