So, as most of you may know, Halloween isn't anywhere near the end of celebrations for us Washingtonians. This  weekend commemorates the Veteran's Day and is scheduled to host everything from musical ensembles from Grammy Award winning musicians to child prodigies and more. So for your viewing pleasure, we've compiled trending events in DC this weekend. 
---
Friday- November 10

Start your weekend with an excellent blend of dubstep and art!
---
---
Who
Lindsey Stirling
What
Warmer in the Winter Christmas Tour Music Concert
Where
The Anthem, Wharf
When
08:00 PM (Doors: 06:30 PM)
Ticket Fee
General: $45
Super Excellent Seats: $100
Prepare for a gorgeous ensemble because one of the most popular hip hop violinists (say wha?) is coming to town this weekend! Lindsey Stirling is America's virtuoso who makes her violin sing the electronic tones like never before. She has been No #2 on Billboard's Top 200 artists with a 21-week record as Number #1 in the classic albums category.
Stirling is not just a violinist, but a dancer, singer and composer too. She is adept in countless string instruments and believes in performance art. Lindsey Stirling will perform with Alexander Jean at a choreographed event at The Anthem.
The artist who once bewitched the judges at America's Got Talent is now a star. Watch her perform the musical odyssey to warmer in winter this Friday!
---
What
Re-Evolution: Launching of a Statue aka Catharsis on the Mall
Who
Sculptor Marco Cochrane
Where
National Mall
Time
All day
Ticket Fee
Free
Started by visionaries affiliated with the ideologies of the Burning Man, Catharsis on the Mall is aimed at de-sexualizing the identity of women around the world — and it also just so happens to feature a 45 foot gorgeous statue of a naked woman made by Marco Cochrane transported from San Francisco.
Themed 'Nurture the heart', Catharsis on the Mall was put to fruition thanks to $150,000 raised by crowdfunding. The statue was installed just yesterday with the combine efforts of hundreds and thousands of volunteers!  
Volunteers are not permitted to camp at the National Mall and must make necessary arrangements for food and accommodation.  Click here, if you can put in minutes or hours for guarding the statute anytime until March next year.
---
Saturday November 11
Its veteran's day, so why not start the morning with a tribute service and end it with an acoustic symphony?
---
---
What
Parade of Colors – Veteran's Day Memorial Services 
Who
U.S Military
Where
Across the Potomac, Arlington Cemetery  
Time
11:00 AM
Ticket Fee
Free
The annual holiday to honor the hundreds and thousands of soldiers who laid their life for the country, Veteran's day will follow the traditional services this year in Arlington Cemetery. The 99th year also began with a good news when the President proclaimed November as the official month for Veterans and families of the Veterans.
Weekend Vet's day ceremonies will include laying wreaths at the Tomb of the Unknowns, succeeded by the memorial service at the Amphitheater in grandiose. The official service will precede the Parade of Colors by various veteran's organizations and speech from dignitaries.  
---

What
The Con 10th Anniversary Acoustic Tour
Who
Tegan and Sara
Where
The Anthem, Wharf
Time
08:00 PM (Doors: 06:30 PM)
Ticket Fee
$55.50 to $76
One of the popular indie pop bands, Tegan and Sara have a concrete musical legacy since two decades. The Canadian identical twins are known for their finesse to play a wide variety of instruments including guitar and piano. So, if you're looking for a rich and vibrant experience of music, The Con at the Anthem on Saturday will make your evening a blast!
The Con was started 13 years back and have traveled all across the U.S by now! Having toured with Lady GaGa and Katy Perry, the duo has been active at Coachella, Bonnaroo and Glastonbury festivals too.
---
Sunday November 12
End your weekend with a shopping extravaganza of DC's own DIY experts and on a high note of Grammy-Award winning melodies.
---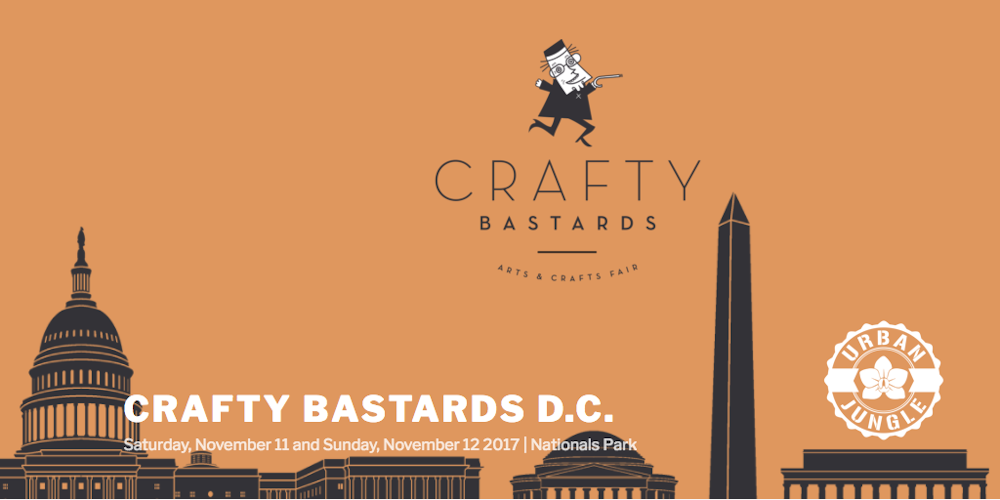 What
Handmade Shopping Festival
Who
City Paper
Where
National Park
Time
10:00 AM to 05:00 PM
Ticket Fee
$6/ $8
An ongoing tradition since 14 years, the annual Crafty Bastards Arts and Crafts festival is expected to be a booming success this year too. Crafty Bastards features handmade or DIY jewelry, toys, clothes and art in addition to sumptuous delicacies.
The highlighted artists at Crafty Bastards are cherry-picked by the jury for their in-depth mastery in art and crafts too. Don't forget to splurge your heart out, while you're admiring the art extravaganza!
---
Music at Dumbarton Oaks
A father-daughter duo with enriching musical touch to their fingers, Clarice is a Grammy nominated composer and vocalist, while Sergio is the Grammy award winning guitarist. Together, they create magic more than music!
The evening at Dumbarton Oaks Music Room is expected to glow in the symphonic fusion of samba with jazz.
What
Musical Evening
Who
Clarice and Sergio Assad
Where
Dumbarton Oaks Music Room
Time
07:00 PM
Ticket Fee
$54
Before you go …
There is no fun in chilling at home doing what the TV shows you. Go out and seize the weekend this time. As tickets are selling like truffles for the weekend hit lists, hurry before it's all out!